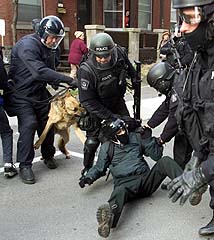 No Fear T-shirts in '96
Sunday May 27, 2007
In a story complete with an imaginary naked man riding a moped, a child pornographer, and a police officer threatening a Meals-on-Wheels volunteer at gunpoint, I can only leave it up to our newest correspondent, William N. Grigg, to uncover the truth.
Deke latched onto [Rogers] and in the struggle bit him several times on the hand, back, neck and face while three officers beat him.
---
Saturday February 24, 2007
Those Texas Tycoons are at it again! They seek to build a super highway connecting Mexico, through these United States, to Canada. While, that may sound as innocent as a baby boy, there's more to this story. You won't hear George W talking about this heinous highway any time soon, but you can bet your balls that he is involved. This false freeway represents yet another corporate hand-out for his covetous cronies. This Trans-Texas Corridor as it is deceitfully donned, will allow shipments from China and other sweat-shop saturated countries in Asia to enter North America through Mexico.
If all goes according to these neo-robber baron's plans, the people making the goods, the people shipping the goods, AND the people trucking the goods will all be living painfully below the poverty line. And to add insult to injury, it will put honest, hardworking Americans in the Longshoreman's Union and the Teamster's Union out of work. All the while, the savings are pocketed by the fat cats, and not passed on to you.
This plan has been underway for many months, as some of you already know. What you definitely don't know is that the project has moved swiftly beyond the planning stages and the propaganda is flowing like mud in the Mississippi. We have reports coming in from Fort Worth, Texas — the heart of the beast, no less — that billboards are going up along the highways shamelessly shilling for the Trans-Texas corridor. The time is now to stop this diabolical corporate machine in its tracks, call your senators today, sign the petition now!
Sign the Petition, Stop the Greed!
---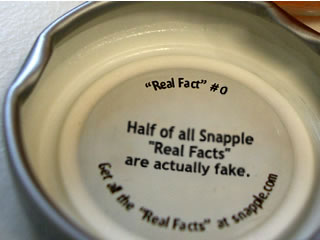 The awful truth
Friday June 16, 2006
Most of you probably know about Snapple's "Real Facts". On the bottom of each bottle cap, is printed a "Real Fact". Each "Real Fact" is a one-liner piece of information about a random topic. For example:
#92 Fish can drown
Here is an almost comprehensive list of all the Snapple "Real Facts". Many of these facts sound almost too too good to be true. The rest are too good to be true.
Verdad, Half of Snapple's "Real Facts" are blatant lies. Snapple reveals this on the infamous "Real Fact 0" cap (which is why I refered to the link as an almost comprehensive list).
#0 Half of all Snapple "Real Facts" are actually fake.
I was devistated when I saw this cap. I enjoyed reading the facts, learning about giant cheesecakes and female kangaroos. I can't even think about drinking Snapple anymore, much less looking at a "Real Fact". I guess it's my own fault though, I should never trust something where the words "Real Facts" are in quotes.
---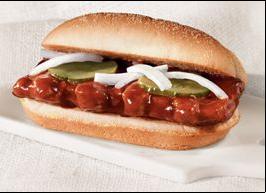 McRib
Wednesday June 14, 2006
McDoanald's is guilty! Guilty of online bullying. McDoanald's is involved in a double play whereby they are actively promoting a Simpsons-esque "farewell tour" for the McRib sandwich. At the same time they have created a fake "Save the McRib" campaign.
To launch this campaign they have stolen the mcrib.com domain name from MC Rib, a female rapper from Santa Fe, New Mexico. MC Rib had owned mcrib.com since 2001. McDonalds issued a cease and desist order to Verisign (who control the domain name system) in December of 2005. Verisign gave the domain to McDonald's, claiming that MC Rib was cybersquatting.

MC Rib
Cybersquatting is defined as an individual who purchases a domain name only so they can resell the domain name at an inflated price. MC Rib was using the site to promote her hip-hop career, with no intent to sell it. Look at the Google cache of her site here, and see for yourself. Not only is MC Rib 100% INNOCENT of the charges brought against her, but HER PROPERTY was unreasonably seized from her WITHOUT A TRIAL! This is a clear violation of fourth amendment to the UNITED STATES CONSTITUTION.
This is not "cybersquatting", this is REVERSE DOMAIN HIJACKING. In this supposed the "land of the free", we must not tolerate big business walking all over our citizens. We must stop McDonald's and other large corporations from this ILLEGAL activity. STOP REVERSE DOMAIN HIJACKING. FIGHT FOR THE BILL OF RIGHTS! SIGN THE PETITION!
http://www.petitiononline.com/stopmcd/petition.html
Update 2006/6/15: The google cache of MC Rib's website has disappeared. I smell foul play.
---